CUTTING IT FOR HALF A CENTURY
Celebrating 50 years of John Jenkins hairdressing in Chobham - SEPT 2017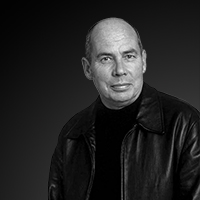 Remember, or imagine if you will, September 1967… Billie Jean King won the US tennis championships for the first time, Sgt Pepper's Lonely Hearts Club Band dominated the charts and the QEII set sail on her maiden voyage from Clydebank, where Her Majesty The Queen used the very same pair of gold scissors that her mother and grandmother before her had used to launch the luxury liners Queen Elizabeth and Queen Mary. And in Chobham, with his pair of scissors (although probably not gold), newly graduated hairdresser, John Jenkins opened his first hairdressing salon. A salon that has been the mainstay of the village's high street ever since, frequented by many across Surrey, Berkshire and farther afield.

But back to the 1960s. This was an era where hairdressing was, quite literally, cutting edge stuff. A style was the ultimate personal statement and new avant-garde dos were to define the decade. The beehive, the flipped bob (think Jackie Kennedy), the mop top, the bombshell (today's bedhead), the pixie and of course Vidal Sassoon's short, sharp angled styles were the haircuts that depicted a generation, a new age. Influenced by greats like Sassoon, John Jenkins established his career at the dawn of celebrity hairdressing culture.

The son of a Welsh miner, John Jenkins was born in Llanfrechfa in 1944. Moving with his family to the Woking area he began a hairdressing apprenticeship in 1959, completing his training in the town itself and later on in London. With his first salon under his belt in Chobham, by 1978 his eponymous hairdressers were to be found in Guildford, Surbiton and Amersham. The Amersham and Guildford salons also housed hairdressing schools where students would travel from all over the world to learn under John's leading professional instruction, described by a L'Oreal publication as "one of the hairdressing industry's best known names…frequently sought after for words of wisdom on national and international trends."

Having established his chain of salons, John travelled the length and breath of the UK and even toured North America teaching hairdressers and students his coveted skills in cutting and colour. His 'Have you seen Team Jenkins?' campaign was not just famous but legendary within the hairdressing profession and he became the go-to man to learn and learn well.

It's hard to countenance but his modest salon in Chobham belies John's worldwide reputation. For 15 years, stepping down in 2004, he trained the British national ladies hairdressing team, leading them to many triumphs in international competitions, globe trotting from Tokyo and Seoul to Washington DC. A result of his dedication and knowledge to the industry, the professional body of hairdressing, the OMC (with over 2,000,000 members worldwide) presented him The Award of Excellence in 2006, recognition of his contribution and leadership and later bestowed him with its highest accolade, the Gold Medal. A decade earlier, he had been the recipient of Fellow of Distinction from the Fellowship of British Hairdressing, a roll call whose names since have included Trevor Sorbie, Joshua Galvin, Charles Worthington and Nicky Clarke.

Indeed much of Surrey and Berkshire's hairdressing talent has at some stage passed through the doors of John Jenkins, going on to open their own salons locally and as far as Toronto and Adelaide. John attributes much of his success to the strength of his team, who in turn site the inspiration of his professional knowledge and his kindness as an employer.

A founding member of the Chobham Business Club, John is a pivotal member of his home community, as much as his salon is a pillar of the high street. He remains a staunch ally and advocate for local businesses against the tide of big brands that have pushed out many independent retailers over the years. In this, Chobham remains unique, its high street still a plethora of boutiques and independent traders, the village's entrepreneurial spirit living on 50 years later from when John first opened his salon.

Today, John Jenkins has two salons, the original location on Chobham High Street and on Sunningdale's Chobham Road, both retaining a long list of loyal clientele. Asked about his favourite aspect of his 50 years in the business, John says, 'It's the families. I cut hair for all generations. I styled a bride the other day, the daughter of a lady I'd styled on her wedding day 30 years previously. It felt like a very special moment for me.' Fifty years on, still going strong and according to his clients, still a cut above the rest.